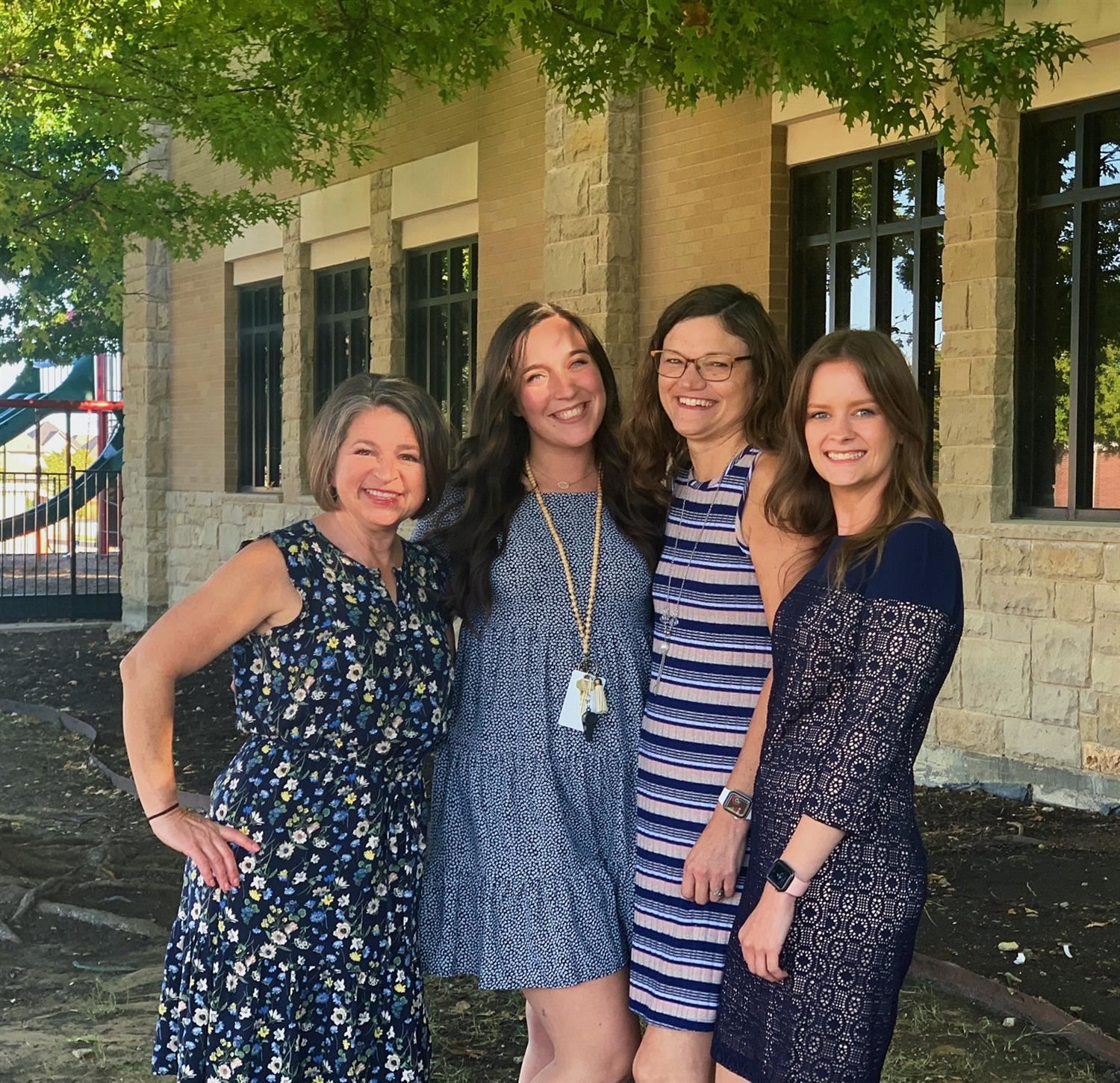 From left to right:

Mrs. Karole Requilman

Mrs. Alexis Sanders

Mrs. Tammie Hoyt

Ms. Kortny Ucella
Mrs. Ucella holds a B.A. in Business Analytics, EC-6 Certification with ESL and STR Supplementals, and is GT trained. She loves all things Target, Diet Coke, and nature. She spends most of her time painting, reading, or watching movies with her husband(but do not ask her to pick a favorite movie!) She worked for a before and after-school care company for over four years prior to teaching. She worked as a Group Leader, Curriculum and Behavior Management Trainer, Curriculum Director, and Site Director. She has been at LPS for over two years and is glad to be returning. Go Lions!

Mrs.Sanders has worked in early childhood education for the past seven years. This includes being a toddler and a preschool teacher. Mrs.Sanders has worked hands-on in behavior management and creating a safe, enriching environment for children. She went to Texas Women's University and received her BA in Child Development specializing in child life. This will be her third year teaching First Grade at LPS. She loves spending quality time with her family, friends, and husband. She love watching muscials, going on nature walks, eating sushi and going to target. She is so excited for this upcoming year!

Mrs. Requilman loves all things rescue dogs, frogs, otters and sloths. Mrs. Requilman has over 25 years of teaching experience in both Kindergarten and first grade. She graduated from University of North Texas in 1994 with a BA in Interdisciplinary Studies, minor in English, and is certified in Early Childhood thru 4th grade. She is also trained and certified in ESL and GT. She is married with 2 young adult children. In her spare time, she loves to rest, relax, exercise, read and enjoy time with her family.

Mrs. Hoyt has been teaching for over 20 years in grades K-2. She holds a Bachelor's Degree in Elementary Education, a Generalist EC-4 and ESL Supplemental Certification, and is trained for Gifted and Talented education. She has taught for over 20 years in grades Kindergarten, First, and Second. She is married with two children. Mrs. Hoyt loves camping, traveling, reading, gardening, and spending time with her family and three dogs.